Teachers' Strike Updates
​​​To stay up-to-date on labour relations, subscribe to receive "critical updates" at www.peelschools.org/aboutus/subscribe. You will receive an email as soon as we have OSSTF and/or ​ETFO updates​ to ​share.​​
Secondary Teachers' strike confirmed:
Peel board secondary schools are closed to students as of May 4, 2015, for a secondary teachers' strike. The Peel board is ready to return to the negotiating table--we are waiting for dates from the Ontario Secondary School Teachers' Federation.​
Elementary Teachers update:
Elementary Teachers' Federation of Ontario (ETFO) has indicated that as of May 11, 2015, elementary teachers and elementary occasional teachers across Ontario will be taking job action. This may include any labour action or withdrawal of service, up to and including a strike. 
---
Interested in Summer School?
Summer school can be a great option for students who need to upgrade credits or who want to complete additional credits during the summer months. Courses are offered for students currently in grades 9 to 12—as well as adult learners working towards their high schooldiploma.
Course Offerings
For a full listing, 
Course Offerings - Summer School 2014-2015.pdf 
Course Dates
Full Make-up and New courses will run from Tuesday, June 30 to Tuesday, July 28.
Session 1 Make-up classes will run from Tuesday, June 30 to Tuesday, July 14.
Session 2 Make-up classes will run from Wednesday, July 15 to Tuesday, July 28.
Locations
Clarkson SS, Glenforest SS, Mississauga SS, Rick Hansen SS, Stephen Lewis SS
Registration  (Summer School Registration Form - New 2015.pdf) 
Registration begins in May 2015.  For information on how to register for online summer school courses, visit Peel eLearning - SUMMER.  You will find the online registration form and student information sheet at this site.
Peel and Dufferin-Peel Catholic district school board day students require the approval of  their home school to register for a summer school course. Peel students may register electronically (pending guidance counsellor approval) and Dufferin-Peel counsellors will register students directly in the Student Information System (SIS).   Contact your guidance counsellor for registration dates. 
Note:  Some Peel day schools provide an option to their students to register themselves online via the school website.  Any questions regarding this process must be directed to the day school guidance departments. 
All other day students and adults learners must register in person only at the Adult Education Centre South, 100 Elm Drive West, Room 116, Mississauga. Office hours are 8:30 a.m. and 4 p.m. We are open until 5:30 p.m. on Thursdays during registration.  All walk-in registrants must bring an authorized registration form and transcript.  
For more information about summer school programs, visit our frequently asked questions page. 
---
Peel schools implement cold-weather guidelines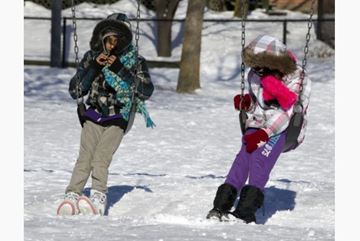 Shared from the Mississauga News - Click here to see article.
PEEL – For many students recess is the favourite part of the school day, but the kind of frigid temperatures currently gripping the region can pour cold water on any fun they have planned for outdoors.
According to Environment Canada, temperatures will dip to -18 C Tuesday, with the wind chill, and plummet again to near -30 C on Wednesday.
Following recommendations from Peel Health, the Peel District School Board and Dufferin-Peel Catholic District School Board implemented cold-weather guidelines created to prevent students from suffering frostbite or other injuries caused by extreme cold.
Under the guidelines, applied to protect the board's younger kindergarten to Grade 8 students, schools are advised to reduce the amount of time kids spend outdoors when the temperature hits -20 C or colder, with or without the wind chill.
When the thermometer falls to -25 C and lower, schools will typically keep recess and other activities indoors.
The guidelines also suggest school staff allows children to take indoor breaks to warm up, if they are outside for any length of time.
Other common sense measures, such as making sure students are dressed properly and changing wet clothing and footwear, are recommended in combination with steps to educate staff and students about recognizing and treating adverse health effects of extreme cold.
For more information visit www.peelregion.ca /health/.
---
Kindergarten Registration Update
If your child was born in 2011, he or she can start kindergarten in September 2015. All Peel elementary schools will be open for kindergarten registration on February 2nd to 5th from 9 am to 3 pm and from 5 pm to 8 pm on February 5th. 
Further details can be found at the link below:                       
http://www.peelschools.org/parents/kindergarten/Pages/default.aspx                       
---